The 22nd Annual Secchi Dip- In begins July 1st!
Your participation gathering water transparency measurements is an invaluable part of the effort to monitor lakes around the world.
Dip-In Basics
Here are a few things to remember:
•    Take a Secchi measurement on one day during the month of July. Remember to sample as close to midday as possible and while not wearing a hat or sunglasses. Record all information in the field.
•    After sampling, please enter the data here.
•    Finally, tell us about your Secchi Dip- In experience! Email us photos or tag us on Twitter or Facebook.
Contact NALMS about the Secchi Dip-In
Email us at secchidipin@nalms.org with any question not answered on the website.
PLEASE NOTE: The Secchi Dip-In website provides generic information for taking a Secchi disk reading that differs from the protocol used by the Maine VLMP (now known as Lake Stewards of Maine (LSM)) and DEP.  DO NOT change the method that you have been trained to use for Maine lakes, when taking a reading for the Dip-In.
---
Anti-milfoil organizers hope to develop a group of lakeshore homeowners and others to keep an eye on the problem.
Click on the above title for link to full story from the Kennebec Journal/Morning Sentinel, courtesy of CentralMaine.com.
---
Maine DEP Commissioner Aho presents
EPA Environmental Merit Awards
to Four Maine Winners on Earth Day
– Scott Williams of Maine Volunteer Lake Monitoring Program, the "Save Your Pipes: Don't Flush Baby Wipes" campaign from Maine Waste Water Control Association, INDA and the Portland Water District, E2Tech and Sam Merrill of Catalysis Adaptation Partners, received Environmental Merit Awards –
---
Ready for a dose of summer?                                   April, 2014

Please don't miss this special opportunity to follow our good friend Steve Underwood (intrepid videographer of the VLMP's new documentary The Hunt for Aquatic Invaders) as he explores the wonders below the surface of some of Maine's clearest, cleanest, and most spectacular lakes.
Steve is a "free-diver," preferring gliding through the water while holding his breath like an otter to other more cumbersome forms of diving. You will be amazed at the extraordinary high-definition footage he has managed to capture, all in a single breath.  But Underwaterguy is more than exceptional underwater video.  It is a love story.  Get ready for a multimedia extravaganza that will wow, charm, and entertain, while speaking directly to the heart of lake lovers everywhere.
VLMP monitors and friends will pay just $10 for their tickets
on Opening Night (VLMP Night) Wednesday, April 2
as well as for all shows on Friday, April 4 through Sunday, April 6!
Please join us and show your support for Steve and the lakes we all work so hard to protect!  Underwaterguy will be presented at The Good Theater (in Residence at St. Lawrence Arts Center), at 76 Congress Street in Portland. 
When ordering your tickets, just mention (or type in) the code: VLMP (all caps) to receive your discount.  Tickets may be purchased at www.goodtheater.com for "Underwaterguy", by phone at 885-5883, or use  this direct link to TicketSpice.
Parents please note . . . Underwaterguy has a few "PG-13" moments.
'Underwaterguy' Preview: Good Theater, Portland, ME 4/2-13/2014, Freediving Film maker
'Underwaterguy' Preview – "What's this show about?" Character, story, fun and beauty…
This is going to be fun!  We look forward to seeing you there!

~ Scott, Roberta, Jonnie & Christine
---
See what Maine DEP Commissioner Patricia Aho has to say about the work of Maine's exceptional volunteer lake monitors!
Please click here, and scroll down a few paragraphs to see the December 30, 2013 entry from the Commissioner's Corner.
---

The Great American Secchi Dip-In 2013: June 29 to July 21
The Great American Secchi Dip-In is an annual event where volunteers contribute to the understanding of water quality in the world. Volunteers have been submitting information during the annual Dip-In snapshot since 1994.
The Ohio Lake Management Society just sent us the report from the 2012 Secchi Dip-In, as well as the dates for 2013. Please click here to view the full report in PDF format.
---

Show Off Your Water-Smart Landscapes!
Are you a green thumb with a knack for saving blue? If so, Facebook and Instagram aren't the only places where you can show off your water-saving landscape projects. WaterSense's Water-Smart Landscape Photo Contest invites home and business owners, landscape designers, irrigation professionals, and anyone else committed to saving water to submit snapshots of landscapes from any time of the year-including past years-that demonstrate how water-smart practices can be both beautiful and efficient. Participation is easy and open to the public, and multiple entries are welcomed. WaterSense will share some of the best water-efficient and aesthetically pleasing landscape photos on its Facebook page. The photos earning the most votes will be featured in WaterSense outdoor water-saving outreach efforts in 2013. Photos will be collected until February 15, 2013.
Think your yard has what it takes?
Learn more about how to enter WaterSense's Water-Smart Landscape Photo Contest at http://www.epa.gov/watersense/outdoor/photocontest.html
---
Scott Williams of Maine VLMP to be on Maine Calling on Tuesday, February 5, 2013 at 12:15pm

The topic of Maine Public Radio's "Maine Calling" program on Tuesday, February 5 will be "The Role of Citizen Scientists in Our Communities". VLMP Executive Director, Scott Williams will be interviewed, along with Jessica Leahy, Assistant Professor of Human Dimensions of Natural Resources and Susan Gallo, wildlife biologist with Maine Audubon. The program will air live for 45 minutes, starting at 12:15.
Maine Calling is a call-in program. This is an opportunity for you- our citizen scientist lake monitors- to air your thoughts about how being a certified volunteer monitor has benefited your lake and community. Calls will be taken at 1-800-399-3566, or you can email comments or questions to talk@mpbn.net. Facebook and Twitter @MaineCalling are also options.
Please click here for audio-on-demand links to the archived show on MPBN.net.
---
7/20/2012
Crystal Lake Quality May Be Going Downhill
By Bill Cleary, published in The Independent
GRAY
Crystal Lake, the site of the town of Gray's annual Ice Fishing Derby and a perennial attraction to residents and tourists alike, is facing several environmental threats to the quality of its water.
Several groups of volunteers at the local and state levels have been working to identify threats to the lake and work to combat them and protect Crystal Lake's water. Recent tests and observations have indicated that the lake may already be undergoing a decline, however.
"Many of the visuals relating to Crystal Lake water quality indicate average to above-average water quality," said Cheryl Welch, Gray resident and vice president of the Crystal Lake Association. Testing performed by Association volunteers has shown that the bottom several meters of the lake contain no dissolved oxygen. "The progression of the decline of water quality is slow and not readily noticed — it happens over a long period of time."
Besides the depletion of the lake's dissolved oxygen, Welch identified two other major threats to Crystal Lake: phosphorus carried into the lake via soil erosion and the development of algae blooms.
On June 20, Association members located an algae bloom — the first spotted on the lake and the most visible threat to water quality yet to appear.
"It was kind of a perfect storm of events that day," Welch said. "It was very warm, it was sunny and it was extremely still on the lake — there was not much wind and no wave action — and that allowed the algae to pile up, if you will, on the shoreline so it was very visible."
After spotting the bloom, Welch contacted members of the Maine Volunteer Lake Monitoring Program and the Department of Environmental Protection for information and advice.
VLMP board member and national freshwater algae expert Ken Wagner identified the algae present in the bloom as belonging to the genus Anabaena.
"It's a species that can be a taste, odor or toxin producer, and it does have a very strong smell," Welch said. "As small a bloom as it was, when I stepped out my door, I could smell it — it smelled like I lived on the shore of a bog, rather than Crystal Lake."
Welch asked Linda Bacon, a biologist with the DEP and an advisor to the VLMP, about the risk posed by the bloom and what precautions the Association and Gray residents should take. In an email to Welch, Bacon said that toxin production was not a concern at the levels at which the algae is present in Crystal Lake, but advised that swimmers should avoid areas of water in which transparency is limited to less that about six feet.
The development of the algae bloom is likely the result of several factors, including weather conditions and other threats to Crystal Lake's water quality.
"It is likely that the calm weather conditions are responsible for what you are seeing," Bacon said. "Many algal species have the ability to somewhat regulate their position in the water column, and during a calm period will make their way to the surface to capture as much sunlight as possible. These algae colonies are also reproducing, so the bloom may get denser as time goes on."
The lack of dissolved oxygen at the bottom of the lake contributes to the algae's growth, as well. Because the bottom of the lake cannot sustain life, the available oxygen is shared between the inhabitants of its higher portions — including undesirable species.
Algae blooms are also sustained by the third major threat to the lake's water — phosphorus-rich soil washed into the lake through the process of erosion.
"Phosphorus that feeds our lawns and flowers also, due to erosion, feeds all plants in the lake," Welch said. "This allows the phosphorus to recycle, resulting in algae blooms and loss of clear water."
The Crystal Lake Association conducted a survey of the lake's watershed to identify sites at which problematic erosion could occur in 2004. Welch said that members have worked with property owners to address and control the problem sites, but that the results have been mixed.
"Our efforts seem to have had little effect," Welch said. "We make corrections on one site, while development in another area creates new sources of erosion."
Welch said that development in the Crystal Lake watershed over the past decade and the recent influx of hundreds of geese to the lake have both contributed to the continued flow of phosphorus into the lake. If this problem is not addressed, she feels the consequences could be dire.
"Reducing the amount of soil containing phosphorus washing into the lake is key to the preservation of water quality. It's the cumulative impact of all the sites that cause water quality to decline," Welch said. "Lake ecosystems are very fragile. It has been shown that loss of water quality results in loss of property values, which causes a shift in the tax base."
Welch said that VLMP Executive Director Scott Williams advised her that the best way to deal with the threats to Crystal Lake's water quality is through preventive measures.
"Once a lake has declined, it is expensive and difficult, if not impossible, to restore," Welch said. "We must monitor the health of the entire watershed, which is many times larger than the area of Crystal Lake and extends into New Gloucester."
Welch has presented her findings to the Gray Town Council at its June 19 and July 3 meetings. The councilors expressed their appreciation of the efforts of Welch, Bacon and the VLMP. Council Chairman Matthew Sturgis, an advocate for the Ice Fishing Derby and participant in its first Polar Plunge in January, pledged the council's support to the Crystal Lake Association.
At the council's June 19 meeting, Council Vice Chairman Richard Barter also expressed his support of Welch's efforts.
"As a long-term user of Crystal Lake, I particularly applaud what you're doing," Barter said. "We need these people who have really stepped forward at critical times, blown the whistles, increased awareness and corrected something that, if left unaddressed, would only get cumulatively worse and we would all suffer."
---
May 29, 2012
Monitoring Maine Lakes for Gloeotrichia echinulata
Gloeotrichia echinulata (Gloeo for short) is a blue-green algae that appears to be increasing in a number of lakes throughout Maine. Gloeo forms tiny colonies about the size of the head of a pin that have a distinct "fuzzy" greenish-yellow appearance in the lake water column. Although this alga has been documented in many Maine lakes for decades during mid to late summer, it has occurred at relatively low abundance/density, often escaping notice by all but those who are specifically looking for it.
Beginning this summer, VLMP and DEP staff will provide volunteer water quality monitors with training and information on how to monitor Gloeo in their lakes. Training will take place at workshops for new volunteer monitors, and at water quality recertification workshops. We will also provide training at the VLMP Annual Conference on July 21. If you are not scheduled to attend a workshop this summer, but would like to receive training to monitor Gloeotrichia in your lake, please contact the VLMP office.
---
May 2, 2012
VLMP Receives Governor's Award for Service and Volunteerism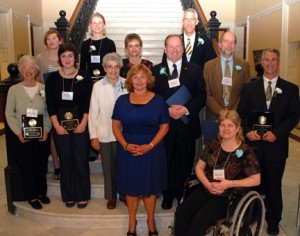 On April 17, the VLMP was presented the Governor's Award for Service and Volunteerism at a ceremony held in the Hall of Flags at the State House. The event was hosted by Maine's First Lady, Ann LePage, who presented the VLMP award to Executive Director, Scott Williams, who accepted on behalf of all of Maine's volunteer lake monitors. The VLMP was recognized for "exemplifying active citizenship, and inspiring community engagement among peers." A number of members of the Maine Legislature were also present at the event.
---
Maine Lakes were Less Clear in 2011
The heavy snowfall during the winter of 2011, followed by extended periods of wet spring weather, had a generally negative effect upon Maine lakes. Higher-than-average spring runoff may cause soil erosion, and wash soil particles and phosphorus to streams and lakes. Phosphorus, a nutrient found in soil and some fertilizers, stimulates algae growth in lakes. Suspended soil particles and increased algal growth both cause lake water to be less clear.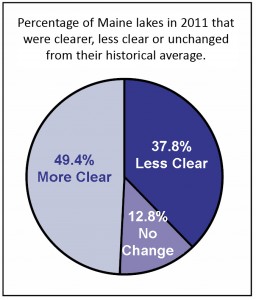 It was no surprise that overall, Maine lakes were less clear in 2011 than in the previous year, when spring conditions were much drier, resulting in less runoff to lakes from their watersheds. In 2010, nearly 65% of the lakes monitored in Maine were clearer than their historical average. But following the wet spring of 2011, nearly 4,000 water clarity readings gathered by certified lake monitors from the Maine Volunteer Lake Monitoring program showed that only about half of several hundred lakes throughout Maine were clearer than their historical average, and about 38% were less clear.
The reduction in the number of lakes that were clearer in 2011 caused the overall water clarity average for Maine lakes to decline slightly last summer. User-perception surveys suggest that water clarity is the most highly valued attribute of our lakes.
The relationship between precipitation and lake water clarity is counterintuitive, in that one might expect that more rain and runoff would flush and cleanse lakes, making them clearer and cleaner. But as lake watersheds become increasingly developed, runoff from melting snow and rain carries pollutants to lakes, causing them to become cloudy with silt and algae growth.
While we can do little to control the weather, the use of simple conservation practices like diverting runoff to vegetated areas that can help filter pollutants can have the same beneficial effect on lakes, resulting in clearer, cleaner and healthier lakes.
Maine's Volunteer Lake Monitoring Program is the longest-standing citizen lake monitoring program in the nation. For more than four decades, thousands of trained volunteers throughout the State have monitored the health of our exceptional lakes and ponds. Much of what is known about Maine lakes is through the effort of VLMP volunteers, many of whom have been continuously active for decades. For more information about the VLMP and Maine lakes: stewards@lakestewardsme.org.
---
On February 2, the VLMP kicked off its 40th anniversary with this special day in the Maine State House Hall of Flags. The event provided an opportunity for the new Governor, Maine legislators, and key staff to meet the dedicated volunteers who are keeping a watchful eye on the health of Maine lakes, and discover one of Maine's most efficient, cost-effective, and successful public/private enterprises!

VLMP Receives Legislative Sentiment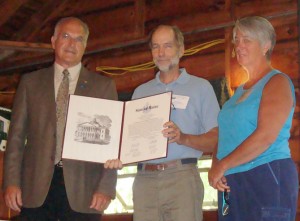 On the occasion of the celebration of our 40th Anniversary, the Maine Volunteer Lake Monitoring Program was honored with an award from the members of the Maine Senate and House of Representatives. Representative Dennis Keschl of Belgrade presented the "Official expression of sentiment on behalf of the 125th Legislature and the people of the State of Maine," to "congratulate the Volunteer Lake Monitoring Program and its volunteers on this important milestone" and send its "appreciation for the work they have done for the past forty years." Please click here for more information and to view document.

VLMP In The News
Here are some articles from 2011 that featured the VLMP and/or VLMP volunteers:
Volunteers Search Tripp Lake for Milfoil
Area Residents Trained to Identify Suspected Plant Invaders
Volunteer Sample Wassookeag for Invasive Species
2011 was another banner year across the state of Maine for volunteer lake monitoring!
Water Quality Monitoring Program Highlights
34 new water quality monitors were trained; of these 13 were new, 14 were alternates, and 7 were replacements
17 new lakes were added to the program
85 volunteers were re-certified on the water by the VLMP & DEP
101 volunteers were re-certified using the Secchi Simulator
There are 582 certified volunteer monitors in the program; of these 163 are trained to take Dissolved Oxygen and Secchi transparency readings, and 419 are trained for Secchi transparency readings only
487 lake basins are being monitored in the program
Invasive Plant Patrol Program Highlights
Approximately 350 individuals attended one or more workshops in 2011
The VLMP has now trained over 2,800 Invasive Plant Patrollers state-wide
Maine now has at least 70 active or actively forming IPP teams, up from a small handful only two years ago
Of the 2,800 individuals who have been trained in the program, 480 have elected to obtain and maintain IPP certification
We're still crunching the plant survey data, but already it appears likely that more time was devoted to aquatic plant screening survey activity in 2011 than in any previous year in Maine's history