2019 Lake Monitoring Conference
LSM's 2019 Annual Lake Monitoring Conference was held on July 27th at The Great Outdoors on Pleasant Pond in Turner, and explored the impacts of climate change to lakes. Lake scientists, as well as individuals from lake communities who have experienced climate-driven ecological catastrophes in their lakes were present to discuss their experiences. When all factors are taken into account, climate change is almost certainly the greatest, and most complex known threat to the health of Maine's lakes! This phenomenon has the potential to amplify the effects of polluted stormwater runoff and watershed erosion, severe, and potentially toxic algal blooms, the threat of invasive aquatic species, habitat impairment, drought, and much more.
2019 Program:
Maine Lake Ice-Out Dates: 1807-2018
Lloyd Irland, PhD; Forester and Economist; The Irland Group
Maine's exceptional lakes are clear and clean, due in no small part to the fact that historically they have been covered with ice and snow for nearly 6 months of the year. A shortening of the duration of ice cover on lakes as a result of a warming climate will likely have a profound effect on the interacting biogeochemical factors that influence lake ecosystems. Lloyd Irland will discuss his recent research, which suggests that a shortening of the period of ice cover on Maine's lakes has been taking place since the mid 19th century.
The Influences of Climate Change on Lake Water Quality, Including Recent Case Histories
Linda Bacon, Limnologist and Unit Leader; Maine Department of Environmental Protection, Lakes Program
During the past 10-15 years, a number of Maine lakes have experienced significant, unanticipated changes in water quality. A warming climate appears to have been a common factor in the complex interaction of conditions and circumstances that contributed to these changes. Linda Bacon will discuss the case histories of several lakes that have been pushed "over the edge" in recent years, as well as efforts underway to slow or reverse their decline.
The Effects of a Changing Climate on Invasive Aquatic Species: Threats to Maine's Lakes
Roberta Hill, Aquatic Ecologist and Invasive Aquatic Species Program Director; Lake Stewards of Maine
One of the major historical factors that has protected Maine's lakes from aquatic invaders has been our relatively cool climate. Many species of invasive flora and fauna that have successfully infested lakes throughout much of the Country have failed to gain a foothold in Maine, in part due to our long, cold winters, and cool water temperatures. A warming climate could open the door to many such invaders. Roberta Hill will discuss what could take place in such a scenario, and what can be done to address the problem and reduce this threat.
The Imminent Launch of the Long-Awaited App: A Field Guide to Aquatic Phenomena; Demonstration of, and Discussion of the App Development
Spencer Harriman, Logistics & IT Manager, and App Coordinator; Lake Stewards of Maine
Every lake in Maine is a place of wonder and discovery. The LSM Field Guide to Aquatic Phenomena has been developed to not only provide a knowledgeable mobile-device based companion for lake-bound adventurers; but also, to engage lake users in the important work of spotting threats to lakes as early as possible. Version 1.0 of the app focuses on common and/or potentially problematic phenomena that people might encounter when out on their lake. Once launched, the initial catalog of species and images will be updated and enhanced regularly. Best of all, the app has been specifically designed to encourage users to play an active role in the ongoing development of this infinitely expandable resource.
LSM's Spencer Harriman will share on screen Maine's newest lake app, discussing LSM's fruitful collaboration with ASAP (University of Maine student app developers); and demonstrating how easy it is to search a wide array of FAUNA, FLORA and OTHER LAKE PHENOMENA, zeroing in on the phenomena of interest through a series of simple keys. He will also provide a preview of some of the additional features and functions that are already in the pipeline.
A beta version of the new app be previewed at this year's LSM Lake Monitoring Conference. Those who would like to help test the beta version, may sign up in the exhibit hall.
Other Conference Activities:
– Silent Auction
– Aquatic Plant Identification
– Exhibit Hall
~ ~ ~ ~ ~ ~ ~ ~ ~
PLEASE NOTE THE FOLLOWING:
The conference is FREE for all CERTIFIED Lake Stewards of Maine lake monitors.
$35 for others, $20 for students. Lunch is included.
~ Registration opens at 8am. Conference begins at 9am. Lunch at 12:30.
~ Water quality re-certification workshop at 1:30
(pre-registration required; please contact Jonnie at 207-783-7733 or jonnie@LakeStewardsME.org)
.
~ Conference is being held at
The Great Outdoors
, located at 68 Naiad Lane, Turner, Maine.
Directions below.
~ Per request of venue owner: NO Pets Allowed! They kindly ask that you leave your furry friends at home. Thank you!
~ In an effort to '
go green
' this year, we will not be supplying single-use bottles of water. We will have water available, so
please bring your re-usable water bottle
. Drinking cups will be available, if needed.
~ ~ ~ ~ ~ ~ ~ ~ ~ ~ ~ ~ ~ ~ ~ ~ ~ ~ ~ ~ ~ ~ ~ ~ ~ ~
Thank you to our generous Conference Sponsors!

---
2018 Lake Monitoring Conference

Speakers/Presenters:
Forensic Biological, Geological, and Chemical Studies Exploring the Age and Origin of Very Unusual Lake Sediment in Lake Auburn –
Implications for the Phosphorus Budget
Steve Norton (UMaine) – Maine's preeminent Geochemist will share the findings of recent research regarding the unanticipated severe algal bloom that occurred in Lake Auburn in 2012. The bloom triggered an extensive investigation to attempt to answer confounding questions regarding the complex dynamics of this unusual event in one of Maine's most valued lakes.
~ ~ ~ ~ ~
Holding the Line Against Aquatic Invaders on MDI
Billy Helprin (Director, Somes-Meynell Wildlife Sanctuary) and Jesse Wheeler (Acadia National Park) have been working for the last three years to establish a locally-sustainable citizen-based program to help prevent the spread of invasive aquatic species to one of Maine's most cherished and highly-visited regions: Mount Desert Island. Billy and Jesse will provide us with an overview of their project, discuss particular challenges and accomplishments, consider what's next, and offer tips for other much-loved, but under-monitored regions of the state.
~ ~ ~ ~ ~
Healthy Vegetated Buffers – Healthy Lakes! Working with Mother Nature to Protect the Waters of Maine
Roberta Hill (LSM) – Roberta will return to her "roots" in lake protection, extolling the many virtues and benefits of vegetated buffers, describing the components of the optimal buffer, suggesting simple steps for improving buffer effectiveness and beauty, and providing a host of inspiring tips and take-aways.
~ ~ ~ ~ ~
An Overview of Maine Lake Water Quality in 2017
Linda Bacon (MDEP); Scott Williams (LSM) – Lakes are, by nature, highly variable natural systems. Natural, and un-natural variability may become more pronounced and dramatic as a result of extreme weather associated with climate change. This discussion will describe conditions for several hundred Maine lakes in 2018, as well as some prior years.
~ ~ ~ ~ ~ ~ ~ ~ ~
Thank You to our Generous Sponsors!
---
2017 Lake Monitoring Conference Program
Morning Session:
The Cyanobacteria Monitoring Collaborative: An Approach to Educating the Public About Monitoring, and Managing Harmful Cyanobacteria; Dr. Jim Haney, Professor, Department of Biological Sciences,  University of New Hampshire

Harmful algal blooms (HAB's), caused by cyanobacteria, pose an increasingly significant risk to the health of our lakes, and to those who spend time on, and in them. Citizen lake scientists (volunteer lake monitors) can play an important role in the detection of HAB's, allowing us to better understand causative factors, and ways to prevent them.
Maine's Lake Plants ~ How Citizen Lake Scientists Are Enhancing Our Understanding of Native Macrophyte Communities; Roberta Hill, Invasive Species Program Director, Maine VLMP
Maine has some of the richest, most abundant freshwater littoral habitat on earth. The VLMP's Invasive Plant Patrol Program supports the work of hundreds of citizen lake scientists who are helping to answer the many questions that have arisen regarding both native (and invasive) plants in Maine's lakes.
Citizen Lake Stewardship and Beyonce's "I Was Here!": Finding Our Groove For Maximum Lake Resilience In The Face Of Growing Environmental Impacts; Adam Zemans, Outreach & Stewardship Coordinator, Maine VLMP

In the award-winning documentary, The Hunt for Aquatic Invaders, which was produced, directed and filmed by Steve Underwood, Maine VLMP citizen lake steward, Elin Haugen, described the reason for the Maine VLMP's mission: "This lake is like a gemstone. It's like the Hope Diamond of lakes here in Maine, and when I come over Indian Hill, it takes my breath away! And Moosehead Lake has so many sensory delights that create memories." Many of us feel similarly about our own Maine lakes. What does lake stewardship mean to you? What does lake stewardship mean about you? And, when it comes to Maine Lakes, what legacy do you contribute?  The answer is: more than you might imagine.
Lake Shoreline and Littoral Zone Conditions as an Indicator of Overall Lake Health: Current Efforts in Maine lakes, and the Future Potential for Citizen Scientists to Participate in this Assessment; Doug Suitor, Biologist, Maine DEP

A significant finding of the National Lakes Assessment (NLA) was that there is a correlation between the disturbance of lake shoreline and littoral areas, and overall lake health. Maine DEP biologists are contributing to this finding through the gathering of additional littoral and shoreline data on lakes throughout Maine. Citizen lake scientists may play an increasingly important role in this assessment in the future.
Metaphyton (aka: "green cotton candy) in Your Lake: What Do We Know? What Don't We Know? Has There Been an Increase of this Algae in Maine Lakes in Recent Years?; Scott Williams, Executive Director, Maine VLMP

In recent years, there has been much discussion and speculation concerning a possible overall increase in  the abundance of metaphyton in Maine lakes. But most of the available information is based on observation, and little can be said with certainty about this often unwelcome lake dweller.  A few shallow ponds have experienced dramatic metaphyton blooms that have encompassed the entire body of water. What might be causing such changes, and what can be done to reduce the risk of blooms, or to control them?
Honoring Maine VLMP's Remarkable Lake Monitors
~ ~ ~ ~ ~ ~ ~ ~ ~ ~ ~ ~ ~ ~ ~

Afternoon Workshops:
The US EPA mobile lab for monitoring cyanobacteria will be set up at the conference, so that people can see and experience how trainings can be given to interested parties at on site locations.  Workstations will be set up in the mobile lab to demonstrate the preparation of cyanobacteria for identification and data collection purposes along with experiencing the use of fluorometric tools for quantification of cyanobacteria in the water.
Water Quality Monitor Re-Certification Workshop: Certified lake water quality monitors that need to be re-certified may do so at the annual conference.  Pre-registration is required, so please contact the VLMP at vlmp@mainevlmp.org or (207) 783-7733 to reserve your spot.
Thank you to our generous sponsors!
---
The VLMP 2016 Annual Conference was a huge success!  Thank you to all volunteer lake monitors, speakers, exhibitors, guests and generous sponsors for making it such a special day!

The 2016 VLMP Annual Lake Monitoring Conference was held on Saturday, July 30th at the beautiful historic lake lodge of The Great Outdoors, on the shore of Pleasant Pond in Turner, Maine.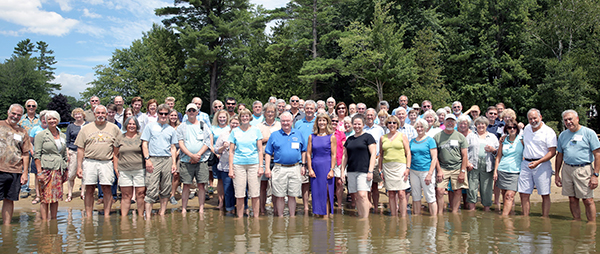 Conference Theme:
Citizen Lake Scientists and Citizen Lake Stewards – A Winning Combination!
The 2016 Maine Lake Monitoring Conference provides an opportunity to meet and mingle with many of Maine's exceptional citizen lake scientists and stewards! This event represents a diverse coming together of grassroots lake stewards and the nation's leading lake scientists, including members of the VLMP Advisory Board and staff, and representatives from the Maine DEP Lakes Program.
Speakers and Topics:
Cyanotoxins in Maine Lakes
Linda Bacon, Lakes Program Leader, Maine DEP
"Harmful Algal Blooms" (HAB's) are likely to increase in Maine's lakes as our climate continues to warm. The presence of "cyanotoxins" in moderate concentrations has already been documented in a number of Maine lakes. Linda Bacon will discuss what we have learned about this emerging threat to our lakes, how to recognize an HAB, and what can be done to minimize risk of exposure to cyanotoxins.
~ ~ ~ ~ ~ ~ ~ ~
A Remarkable Collaborative Conservation Effort
 VLMP Lake Monitors Josephine Ewing and Karen Robbins
Karen Robbins and Josephine Ewing are certified lake monitors on Sewall Pond in Arrowsic. Several years ago, they partnered with a wide range of volunteers and professionals in the undertaking of a remarkable fish and wildlife conservation project to benefit their lake.  The story of this achievement illustrates the leadership and stewardship roles that so many VLMP lake monitors play in their lake communities.
~ ~ ~ ~ ~ ~ ~ ~
Bringing Together Physical and Social Science to Refine Our Ability to Characterize Lake Vulnerability
Scott Williams, Executive Director, Maine VLMP
During the past 18 months, a group of 24 VLMP lake monitors and their lake communities have participated in a research project that has focused on the ways in which both physical and social science combine to enhance our ability to characterize the vulnerability of individual lakes to the effects of watershed development over time. This presentation will focus on the outcome of both the physical and social elements of the project, with emphasis on the social science findings.
~ ~ ~ ~ ~ ~ ~ ~
Tips for Forming and Sustaining an Effective IPP Team
VLMP Lake Monitor Mike Cloutier
Mike has been a Certified Invasive Plant Patroller and the IPP Team Leader on Sabbathday Lake in New Gloucester since 2011; under Mike's leadership the team has grown steadily in size and experience.  Sabbathday is now on the short (but growing) list of Maine lakes that are completely, and conscientiously, screened for the presence of aquatic invaders on an annual basis.  Mike will talk about his experience as an IPP team leader, sharing a number of helpful tips he has learned along the way.
~ ~ ~ ~ ~ ~ ~ ~
We invite you to be inspired by the growing number of volunteer citizen lake scientists who, for 45 years, have been Maine's best strategy for learning about and protecting our lakes!

---
The 2015 VLMP Annual Lake Monitoring Conference was held at the beautiful Great Outdoors Lake Lodge on Pleasant Pond in Turner.  Morning beverages and refreshments, and a hearty lunch were included in the day, along with many opportunities to network with some of Maine's most experienced and dedicated volunteer lake monitors, VLMP and Maine DEP staff, conference speakers, and others.

Conference presentations include distinguished members of the VLMP Advisory Board:
Monitoring Maine Lake Temperatures with Hobo Data Loggers: Greater Understanding through Technology
Dr. Dan Buckley, Professor of Biology at the University of Maine Farmington will present findings from research that he has spearheaded in recent years concerning the nature of thermal stratification (temperature layers) in our lakes. With the help of many VLMP lake monitors, Dan has observed that this common phenomenon that plays a critical role in the function of lake systems may be more complex than previously thought, especially in light of extreme weather events associated with climate change.
View the Presentation Slides here.
~ ~ ~ ~ ~ ~ ~ ~
Identifying Aquatic Plants in Maine: What's New?
Dr. C. Barre Hellquist, Professor Emeritus of Biology at Massachusetts College of Liberal Arts, and one of the world's foremost authorities on aquatic plants, will discuss "What's New" in the ever shifting world of aquatic plants. Some aquatic plants are easily identified.  Others are trickier.  Some may actually require DNA analysis to identify with certainty.  Barre will walk us through the newest information pertaining to aquatic plant identification, focusing upon plants that Maine's invasive plant patrollers are likely to encounter.  He will also show us some new invasive aquatic plants that should be on our radar screens.
View the Presentation Slides here.
~ ~ ~ ~ ~ ~ ~ ~
Phosphorus in lakes – The old paradigm, a paradigm shift, and the future
Dr. Steve Norton, University of Maine Professor Emeritus, will discuss the complex ways in which phosphorus influences Maine's lakes, including the implications of his research on the geochemistry of lake sediments. He will also describe a unique collaborative pilot project involving University of Maine social science faculty and graduate students, Maine DEP and VLMP staff, and a group of VLMP certified lake monitors who will receive hands-on training and experience in collecting lake sediment samples from their lakes. The results of this project will be used to update an index of vulnerability that will be used to help determine the degree to which individual lakes are susceptible to a decline in water quality over time.
View the Presentation Slides here.
_______________________________
Maine DEP Invasive Aquatic Species staff will report in briefly on the status of the statewide battle to prevent the spread of aquatic invaders, and will also be on hand throughout the breaks to answer questions and discuss concerns.
Loons and Maine Lakes! Maine Audubon Society will present information about the annual volunteer loon count, what has been learned about the distribution of loons on Maine lakes through this great program, and what all of us can do to help ensure that loons will continue to be a presence on our lakes in the future. Interactive station.
Doug Suitor of the Maine DEP will demonstrate how to use the HydroColor App to determine the reflectance of natural water bodies.
There were many interactive display booths, including the annual aquatic plant identification exercise, which included live specimens of both native and invasive species.
Drawings for door prizes were held throughout the conference. Congrats to all winners!
---
VLMP 2014 Annual Conference Highlights:
– Maine's Volunteer Lake Monitoring Program and Department of Environmental Protection:  A Most Successful Partnership on Behalf of Maine's Lakes;  Patricia Aho, Maine DEP Commissioner
– Monitoring the Health of Your Lake from a Watershed Perspective: The Role of Volunteer Monitors in Conducting Lake Watershed Surveys; Wendy Garland,  Maine DEP
– The Hunt For Aquatic Invaders video;  Roberta Hill: VLMP Invasive Species Program Director, & Steve Underwood, Videographer
– The Role of Emerging Technology in Monitoring Maine Lakes; Emmanuel Boss, University of Maine, School of Marine Sciences
– Recognition Ceremony for Maine's Exceptional Volunteer Monitors and Lake Stewards
The Following Exhibits and Demonstrations were available throughout the Day:
1.  VLMP – Aquatic Plant ID Exercise:  Test Your Skills
2.  Maine Department of Environmental Protection – Watershed Surveys
3.  Emmanuel Boss – New Lake Monitoring Technology
4.  Maine Department of Inland Fisheries and Wildlife:  Boater Safety
5.  Ken Hotopp: Freshwater Mollusk ID Demonstration
6.  Keith  Williams: Herbarium Sheet Preparation Demonstration
7.  Jackey Bailey  – New Pondweed Key:  Try it out!
8.  Fred Cummings, Lew Wetzel and Pixie Williams –  How Pleasant Lake/Parker Pond Association Won the Milfoil Fight
Our Speakers
Patricia Aho has led the Department of Environmental Protection since September 2011, previously serving as Deputy Commissioner. She also serves as representative for the State of Maine on the Board of Directors for the Regional Greenhouse Gas Initiative, serves as the Secretary-Treasurer of the Ozone Transport Commission and on the Board of the Environmental Council of the States.  Ms. Aho, a native of Boothbay Harbor, graduated from Nasson College and Western New England College, School of Law. Prior to joining the department, her career focused on many environmental and energy related issues facing Maine. Ms. Aho lives in Newcastle with her husband Ron and a very rambunctious Australian Shepherd.
Wendy Garland has worked for the past 12 years in the Watershed Management Unit with the Maine DEP's Division of Environmental Assessment.  She provides technical assistance and support to communities and municipalities interested in protecting their local water resources.  Before coming to Maine, she also worked for several public agencies and local watershed groups in Wisconsin and Oregon.  She holds a M.S. in Water Resources Management from the University of Wisconsin-Madison and a B.S. in Biology from Tufts University.
Emmanuel Boss, professor at the University of Maine, is a physical oceanographer who specializes in the interaction of light with materials in both salt and fresh water bodies. With his collaborators he studies how the properties and concentrations of different materials in the water affect the optical characteristics of a given water body. These studies are then used to elucidate the composition of materials in water from optical measurement in-situ or from remote sensing. Boss is a graduate of the Hebrew University (BSc. in Mathematics and Physics, MSc in Oceanography) and the University of Washington (PhD in Oceanography). He moved to Maine twelves years ago. Much more about his work (than you ever wanted to know) can be found at: http://misclab.umeoce.maine.edu/
---
2013 VLMP Lake Monitoring Conference
The 2013 VLMP Lake Monitoring Conference took place on Saturday, July 27th at The Great Outdoors, on Pleasant Pond in Turner, ME, and was a huge success!  Thank you to our volunteer lake monitors, guest speakers and generous sponsors for making such a great event possible!
2013's  "Looking Into Lakes" program featured:
Holly Ewing, Associate Professor at Bates College in the Environmental Studies Program, will be sharing notes from the front lines of her important research on Gloeotrichia echinulata, a tapioca-like algae that may be gaining prevalence in some lakes. Holly's investigations zero in on the ways in which Gloeo may be a potential driver of changes in Maine lakes.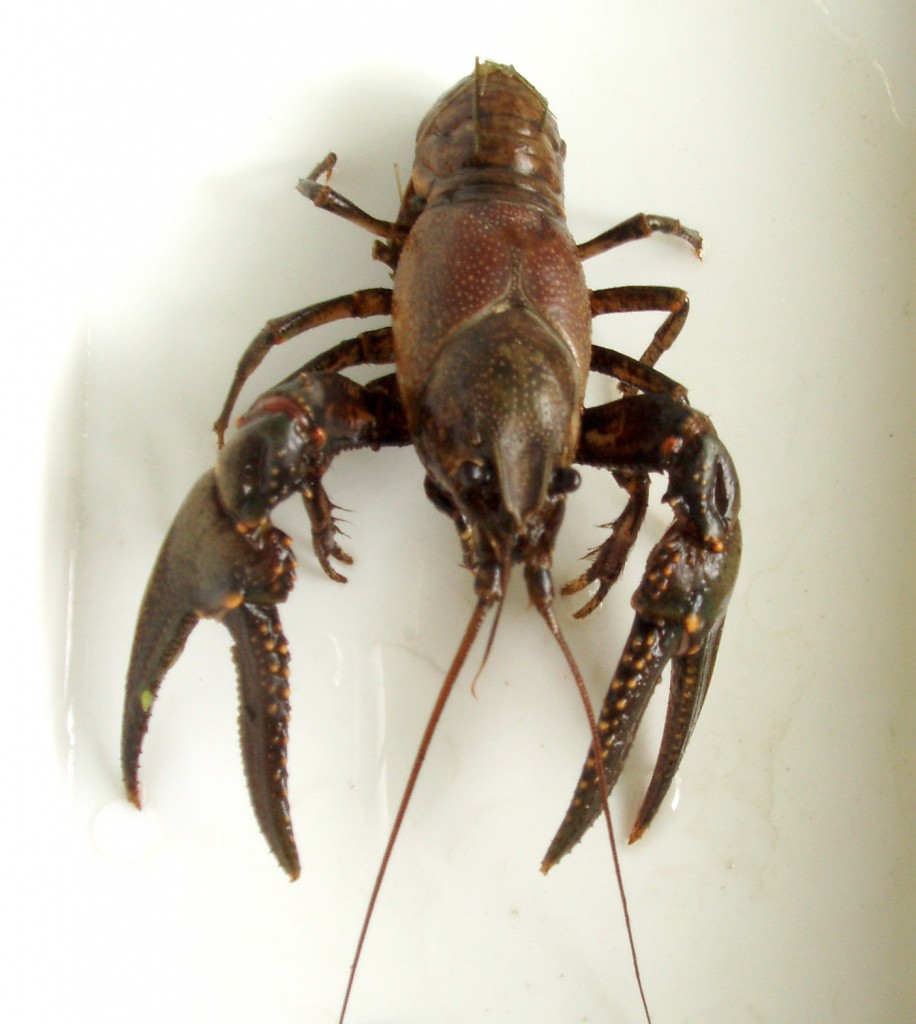 Ever wonder what the difference was between a crayfish, a crawfish, and a crawdad? Curious to know if the crayfish hanging out by your dock is a native species or an invader? Karen Wilson, Assistant Research Professor at the University of Southern Maine in the Department of Environmental Science, will answer these questions and many more, teaching us all about Maine's "freshwater lobsters" and how we can help monitor them in our lakes.
---
2012 VLMP Lake Monitoring Conference

Conference Presentations

Climate Change & Maine Lakes: Observations and Expectations
"Climate change" is a term relatively new to our vocabulary, with several tumultuous storms presenting challenges to Maine and the Northeast over the past year. So how are these changes affecting Maine's lakes? This presentation will touch on a variety of observations – some documented in the lakes literature, others anecdotal – with a 'take home' message of prevention and preparation being one of the few actions we can take to face the challenges ahead.
Our Speaker – Linda Bacon has worked in the Lakes Section of the Department of Environmental Protection for the past 24 years and prior to that, in acid rain research at the University of Maine in Orono for four years. She is the Quality Assurance liaison to the VLMP and is an 'ex officio' member of the VLMP Board of Directors. Linda received her Master's degree from the University concentrating in aquatic ecology in 1987 and is currently working on her PhD.
Integrating Citizen Science and Satellite-Based Remote Sensing for Monitoring of Maine's Lakes
It is now possible to use satellite imagery to monitor the water quality of Maine's lakes. By measuring the relationship between field-collected Secchi disk data and satellite-measured reflectance, we can then estimate the Secchi depth of unsampled lakes, many of which are inaccessible and difficult to monitor in the field. Volunteer lake monitors play a very important role in the process of calibrating satellite imagery lake data. Please click here for Landsat 5 and Landsat 7 information.
Our Speaker – Ian McCullough finished his Master's in Ecology and Environmental Science at the University of Maine in May, 2012. He collaborated with Maine DEP on developing a satellite-based remote lake monitoring program for Maine, utilizing VLMP-gathered historical lake data throughout the process. He graduated with a BA in Environmental Studies in 2010 from Colby College, where he participated in long-term research on land use, residential development and phosphorus cycling in the Belgrade Lakes system. Ian is originally from McLean, Virginia and is beginning a doctoral program at the University of California-Santa Barbara this fall.

Feathered Fish! Loon Research & Conservation
Over the last 25 years, Biodiversity Research Institute has banded over 3,000 Common Loons across North America. All that hard work banding loons has paid off because we have made a lot of new discoveries about loons. Jim will share some of those insights and in addition, will talk about some conservation efforts the Center for Loon Conservation at Biodiversity Research Institute is involved with across North America.
Our Speaker – Jim Paruk is a passionate naturalist, equally at home identifying birds, butterflies and wildflowers. He has travelled extensively throughout North and Central America, and for the past 20 years has conducted research on loons from one side of the continent to the other. His doctorate examined Common Loon social and breeding behaviors. He has personally watched and recorded over 4,000 hours of observations on Common Loons. He served as Vice-President of the North American Loon Fund and Research Chair for Wisconsin's Loonwatch Program. He was a tenured, full-time college professor for 14 years teaching Ornithology, Ecology and Animal Behavior at both Feather River College (CA) and Northland College (WI) before taking this new position as the Director of the Center for Loon Conservation, at BioDiversity Research Institute. Jim is considered an expert on Common Loon behavior and ecology and was the co-author of the Common Loon species account published by the Birds of North America in 2010. Presently, he is an Adjunct Professor of Biology at University of Southern Maine teaching Ornithology.
---
2011 Conference Highlights
On July 30, 2011, the VLMP celebrated 40 years of successfully monitoring Maine's lakes at our Annual Lake Monitoring Conference. This event focused on the history of the VLMP, the thousands of individuals who have made a commitment to helping us learn more about Maine lakes, it included a discussion about what we have learned during the past four decades, and an opportunity to socialize with people who have truly made a difference through their efforts to understand and protect Maine's clear, clean lakes!
Conference Presentations: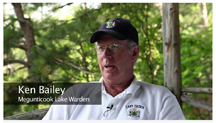 A Brief Video Documentation of an Extraordinary Volunteer Lake Monitor by Steve Underwood (to see video, click here)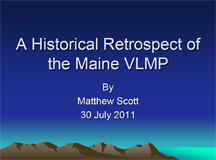 A Historical Retrospective of the Maine VLMP from Matt Scott, VLMP's "Founding Father", and former Director of the Maine DEP Lakes Program (to view presentation, click here)

Please click here for a PDF presentation on The Story of The VLMP. This presentation was created by VLMP's Scott Williams and Roberta Hill, and it provides a photographic, behind-the-scenes glimpse of one of the nation's most successful citizen science endeavors. File size is 12MB and may take a moment to load.
---
2010 Conference Highlights:

2010 Presentation Slides


Presented by David Littell, Commissioner, Maine DEP

Presented by Don Hayes, VLMP Plant Patroller & Branch Lake Milfoil Rangers Team Leader

Ann Speers & Bessie Wright, University of Maine Sustainability Science Initiative, with Roberta Hill, Program Director, VLMP's Center for Invasive Aquatic Plants

Maine and the National Lakes Assessment
Roy Bouchard, Biologist, Maine DEP
---
2009 Conference Highlights
Thanks to all who participated in the Conference! We had a great turn out, great presentations and the sun actually shined!
We had many requests for copies of the presentations and will be posting them here as they become available.
---
2008 Conference Highlights
At the 2008 Conference we had a panel discussion, including state and local agencies, sharing perspectives on the value of volunteer lake monitors and their data.
2008 Video Highlights