04/12/2021
We have recently updated our plans concerning summer 2021 water quality training and certification process. Please follow the link to see the complete document here: https://www.lakestewardsofmaine.org/lsm-updates/
Update on 2021 Workshop and Training Season

---
01/11/2021
2021 marks a very special milestone for LSM. Fifty years ago, a small group of lake professionals, academics, and other lake conservation-minded visionaries, created a plan for safeguarding the health of Maine's extraordinary lakes. LSM and the incredible volunteer network we orchestrate are the culmination of that plan. To learn more about the history, some of the many people involved, and where we intend to go, please scroll down through this, our 50th Anniversary page. We will be updating it with new content all year long!
LINK TO ADDITIONAL UPDATE INFORMATION
LINK TO 50th ANNIVERSARY PAGE
---
01/11/2021
50 Years of Citizen Lake Monitoring – Wow!
2021 marks a very special milestone for LSM. Fifty years ago, a small group of lake professionals, academics, and other lake conservation-minded visionaries, created a plan for safeguarding the health of Maine's extraordinary lakes. The plan — ambitious and innovative, but also remarkably simple and practical — was to develop a program that would help interested citizens become directly involved in the critical process of monitoring Maine lakes. To be effective, the program would need to be accessible and educational, but also scientifically rigorous. In addition to vastly expanding the scientific data related to Maine lakes and freshwater systems (data essential for developing and implementing effective conservation laws, policies, and practices), such a program would establish a grass-roots network of knowledgeable citizens, and thus a strong and widespread foundation for Maine lake stewardship. Since those early days in 1971, LSM has grown and thrived!
We invite you to share in LSM's 50th Anniversary Celebration as we look back at the challenges and achievements, and into the future with new opportunities. We look forward to sharing the LSM story from a myriad of unique perspectives and celebrating all the wonderful volunteers that have made it possible. YOU are at the very heart of this celebration!  None of this would have been possible were it not for the thousands of volunteers who have stepped forward, turning their love for their lake into purposeful action as lake stewards, and for our many statewide partners and committed supporters. Do you have a story to share about how, when and why YOU became involved in LSM?  If so, we would love to know it!  We will be gathering these stories as they arrive, and finding various ways to share them with our growing LSM community throughout the coming year. Happy New Year and Happy 50th Anniversary to all!
---
12/05/2020
Winter is upon us, LSM staff are currently reviewing and entering the large volume of data submitted by LSM's certified lake monitors, and are putting the final touches on the newsletter.
The past several months have been a period of unprecedented adaptation and transformation for LSM and our constituents. The pandemic has caused many to experience hardships. Some have been unable to be in Maine this year, but we have been heartened by those who have picked up where they left off a year ago, and a great deal of water quality, invasive aquatic species screening and watershed survey data have been gathered. We want to acknowledge all of the good work that has been done despite the trying circumstances. We  recognize and appreciate the efforts of our network of volunteers and supporters.
At this point in time, it would appear that CoViD-19 will continue to be a significant threat through the winter, spring, and quite possibly summer, depending on the timing of distribution of vaccines. We are continuing to improve our online presence in order to be able to fully support you, our stakeholders, through the coming year. Recordings of all presentations made during our 2020 summer webinar series and invasive aquatic species training are available online through the LSM website. And we will  continue to virtually meet, and provide wide ranging technical support to any and all interested lake monitors through our weekly  water quality discussion sessions this winter.
We had requested that all data from this summer be submitted to us by November, 15th. This ensures a timely quality assurance and review process. Please let us know if you have any outstanding datasheets and/or if we can help you with your efforts in submitting your data. Our staff are available to  assist you throughout the year.  Check this website, and your email for regular updates during the period. Thank you, everyone, and please stay safe through this fall and winter!
LSM Staff
---
09/08/2020
Despite the many challenges that the CoViD-19 pandemic has posed for the LSM staff, partners, and the wider lake stewardship community, the organization continues to grow and thrive, and indeed has become stronger and more resilient. Though we thoroughly missed meeting in person with, and working alongside, our many volunteers and partners this past summer, we knew that our motto of "safety first" demanded it.  Yet the need for connection remained, so we dove right into the substantial task of finding new ways to provide the training, certification, and technical support that Maine's lake communities have come to expect of us. In the process we discovered we really could be physically distanced while remaining thoroughly connected!  We also gained new skills that will enhance our work immeasurably in the months and years to come. 
Through the wonders of technology, we were able to offer a wide array of new online training programs (Water Quality Monitoring; Invasive Plant Patrol) and weekly check-in sessions (Water Quality Monitoring; Invasive Plant Patrol). We also engaged hundreds of people with our new LSM's Fridays at 4 for Lakes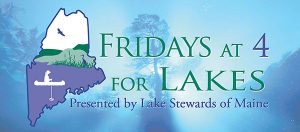 webinar series. Given how well Fridays at 4 was received, we plan continue offering webinars occasionally throughout the fall and winter. Recordings of these webinars are available here and additional details about upcoming webinars will be provided as they develop. 
As the field season winds down and the lakes grow quieter in anticipation of winter, we begin taking stock of all of the events in a truly unprecedented season, continuing to build upon our newfound skills, create a more robust online presence, and look for even more ways to foster and support lake stewardship across the State of Maine. With autumn, we are beginning the detailed process of reviewing and digitizing the data submitted annually by our volunteer network and collaborators, pulling together our end-of-season newsletter, lining up additional webinars, and further developing our print and online resources. We will also continue to provide our community with online learning opportunities and comprehensive technical support sessions pertaining to the welfare of Maine's lakes. The best way to be kept apprised of upcoming opportunities, is to subscribe to LSM's e-news.  If you are not already on our email list sign up here.
This past year has been one of great uncertainty, challenges, rapid change, adaptation, and innovation for many, including us here at LSM. We are so fortunate to have such a wonderful network of dedicated, enthusiastic, and capable collaborators. As things move forward, we want to continue to fulfil our mission of collecting and compiling high quality lake data in order to protect Maine's lakes for future generations. Please let us know if we can help you with your efforts on behalf of Maine lakes, and we, in turn, will do all we can to assist you in a timely and professional manner. Thank you everyone, and please stay safe as winter nears.
LSM Staff