PDF files require Adobe Acrobat Reader.  Download it here for free.
Please help support Lake Stewards of Maine's free online resources and publications by making a gift now.
---
---

---
The Secchi disk is a simple but effective tool used by lake scientists worldwide to measure the clarity (aka: transparency) of lake water. Taken at regular intervals, Secchi readings provide a reliable indicator of overall lake health.
The LSM Secchi Simulator is an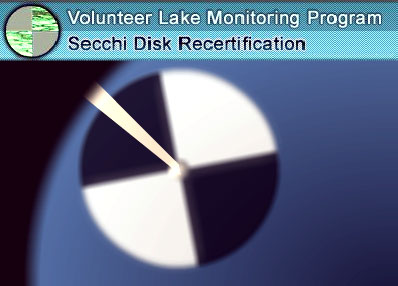 innovative tool developed to enable volunteer citizen lake scientists to meet recertification requirements online, reducing the frequency, and therefore the time and expense, of in-person recertification. It has been shown to be an effective means of ensuring that volunteer monitors gathering water quality data are using the proper protocol and that their readings meet a specific standard.
The Simulator includes both taking a virtual Secchi reading and a series of multiple choice questions designed to gauge understanding. Their responses and official Secchi reading are entered into the LSM volunteer database.
The Secchi Simulator is also available to the general public as a learning tool, and is being used by a number of citizen lake monitoring networks throughout the country.
---

For Invasive Plant Patrol forms visit our IAS Documentation Forms page.
---
Quick Key

To Ruling Out Maine's 11 Most Unwanted Invasive Aquatic Plants
Quick Keys are now in stock and available for purchase! 
The Quick Key is a convenient, pocket-sized guide (printed on waterproof paper) to ruling out Maine's eleven most-unwanted invasive aquatic plants. Each Quick Key costs $1.50, and there is a 10% bulk discount for orders with quantities of 100 or more. To order a Quick Key, please contact christine@lakestewardsme.org or call (207) 783-7733.
---
The Field Guide focuses on the eleven invasive aquatic plants currently listed by Maine law as imminent threats to Maine waters.
Also featured are many native aquatic plants commonly confused with these eleven invasive species.
Photographs, illustrations and narrative descriptions are presented for each of the featured species, along with a variety of cross-reference tools for easy comparison of similar species.
This 160-page reference–spiral bound and printed on tear-resistant, waterproof paper–is built to hold up well to conditions in the field (including inclement weather and the occasional dunking).
Free Field Guides for Certified LSM Monitors: One complimentary copy per certified volunteer.  Conditions apply.
Ordering info: Field Guides are available for $35.  Please contact christine@lakestewardsme.org or call (207) 783-7733. Please write "Field Guide Order" in the subject line of your email.  Additional Shipping & Handling charges will be determined based on quantity ordered.
Previous Edition Field Guide Errata: Field Guide Errata.
Please help support LSM's free online resources and publications by making a gift now.
---
Interactive Field Guide
Identify plants using the online interactive Field Guide to Maine's Aquatic Invaders
---
Set upon the backdrop of one of Ma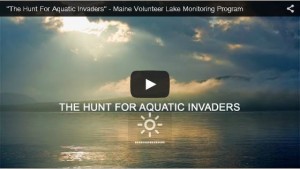 ine's most extraordinary lakes, The Hunt for Aquatic Invaders takes the viewer on a very different kind of outdoor adventure, one that not only speaks to the urgency of the task of preventing the spread of aquatic invaders in Maine, but also provides guidance and inspiration as it explores the vital role that volunteers can play in local and statewide early detection efforts.
---
Once an infestation has been confirmed, rabid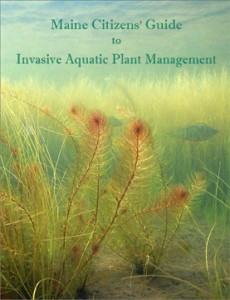 response is crucial. The prospects for effective management or even eradication is greatly increased by swift, well-planned, and properly executed controls. The purpose of the Maine Citizens' Guide to Invasive Aquatic Plant Management is to provide the information necessary to effectively manage invasive aquatic plant (IAP) populations, to prepare for such an eventuality, and to address all associated activities. Methods described in this Guide are based upon tested best management practices for controlling aquatic plants effectively and in a manner that protects wildlife and habitat.
---
Friend or Foe? Learning Kit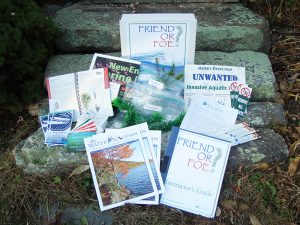 The Friend or Foe? Learning Kit has been designed to provide a quick, easy, hands-on method for teaching people with no previous plant identification experience how to quickly determine if a plant in question is a "friendly native" or a "suspected invader." The Kit contains a collection of several true-to-form plastic plants (some representing invasive species, others, harmless natives), a set of 25 Quick Keys to Ruling Out Maine's Eleven Most Unwanted Invasive Aquatic Plants, a self-guided practice sheet (that may be reproduced for students, or simply used by the instructor to guide the activity), and a host of other resource materials, including an instructor's guide with background information and additional, hands-on invasive species lesson plans. At the conclusion of the exercise, it is recommended that participants keep their Key. (The handy, waterproof, pocket-folded keys may be re-ordered at low cost from Lake Stewards of Maine.)
If you are interested in participating purchasing this kit, please contact Lake Stewards of Maine (LSM) at stewards@lakestewardsme.org or 207-783-7733.
Signs and Posters
---
Collaborating Partners
 LSM works cooperatively and in partnership with:
Auburn Water District / Lewiston Water District
The Cobbossee Watershed District
Pasamaquoddy Indian Nation- Tribal Government Environmental Department
Lake & Watershed Associations
Towns and many other regional organizations concerned with water quality issues.