~ Important Notice  ~
Due to the COVID-19 pandemic, LSM will not be having any in-person training sessions this spring and summer. This includes new volunteer training for all water quality monitoring (Secchi; Dissolved Oxygen) and invasive aquatic species screening workshops.  However, we will be hosting an online webinar series and other online workshops, as well. Please click here for a complete outline of our plans for this summer.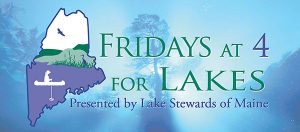 NEW!   In lieu of our Annual Lake Monitoring Conference, Lake Stewards of Maine – Volunteer Lake Monitoring Program will be hosting a series of weekly informational webinars from June through August on a wide range of topics pertaining to Maine Lakes.  The sessions will be approximately one hour in length, including an opportunity for Q&A for those who attend the live webinars on the posted calendar date.  Pre-registration is required for all who plan to attend. The webinars are open to Maine's citizen lake scientists, as well as the general public.  The live webinars will take place at 4PM on Friday afternoons, June 5th through August 28th, with the exception of the holiday weekend of July 3rd.  Please click here for more information.
~ ~ ~ ~ ~ ~ ~ ~ ~ ~ ~ ~ ~ ~ ~ ~ ~ ~ ~ ~ ~ ~ ~