An Update from Lake Stewards of Maine
Despite the many challenges that the CoViD-19 pandemic has posed for the LSM staff, partners, and the wider lake stewardship community, the organization continues to grow and thrive, and indeed has become stronger and more resilient. Though we thoroughly missed meeting in person with, and working alongside, our many volunteers and partners this past summer, we knew that our motto of "safety first" demanded it.  Yet the need for connection remained, so we dove right into the substantial task of finding new ways to provide the training, certification, and technical support that Maine's lake communities have come to expect of us. In the process we discovered we really could be physically distanced while remaining thoroughly connected!  We also gained new skills that will enhance our work immeasurably in the months and years to come. 
Through the wonders of technology, we were able to offer a wide array of new online training programs (Water Quality Monitoring; Invasive Plant Patrol) and weekly check-in sessions (Water Quality Monitoring; Invasive Plant Patrol). We also engaged hundreds of people with our new LSM's Fridays at 4 for Lakes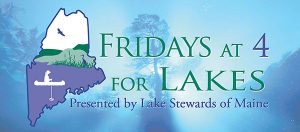 webinar series. Given how well Fridays at 4 was received, we plan continue offering webinars occasionally throughout the fall and winter. Recordings of these webinars are available here and additional details about upcoming webinars will be provided as they develop. 
As the field season winds down and the lakes grow quieter in anticipation of winter, we begin taking stock of all of the events in a truly unprecedented season, continuing to build upon our newfound skills, create a more robust online presence, and look for even more ways to foster and support lake stewardship across the State of Maine. With autumn, we are beginning the detailed process of reviewing and digitizing the data submitted annually by our volunteer network and collaborators, pulling together our end-of-season newsletter, lining up additional webinars, and further developing our print and online resources. We will also continue to provide our community with online learning opportunities and comprehensive technical support sessions pertaining to the welfare of Maine's lakes. The best way to be kept apprised of upcoming opportunities, is to subscribe to LSM's e-news.  If you are not already on our email list sign up here.
This past year has been one of great uncertainty, challenges, rapid change, adaptation, and innovation for many, including us here at LSM. We are so fortunate to have such a wonderful network of dedicated, enthusiastic, and capable collaborators. As things move forward, we want to continue to fulfil our mission of collecting and compiling high quality lake data in order to protect Maine's lakes for future generations. Please let us know if we can help you with your efforts on behalf of Maine lakes, and we, in turn, will do all we can to assist you in a timely and professional manner. Thank you everyone, and please stay safe as winter nears.
~ ~ ~ ~ ~ ~ ~ ~ ~ ~ ~ ~ ~ ~ ~ ~ ~ ~ ~ ~ ~ ~ ~