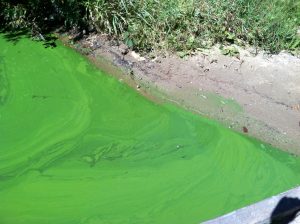 Citizen lake scientists are helping detect cyanobacteria blooms. Want to help? Please check out these three excellent programs available through EPA!
BloomWatch – Do you notice that a lake suddenly turned the color of pea soup or a blue-green paint spill? Do you see green clumps, flakes or filaments floating in a lake? Download the bloomWatch app on your smartphone or tablet. You will learn what cyanobacteria blooms look like. If you suspect your lake may be experiencing a cyanobacteria bloom, take a picture using the app and submit the photos to bloomWatch via the app.

cyanoScope – cyanoScope uses modern technologies and a social approach to learn more about cyanobacteria and their distribution. By participating you will be helping scientists and water resource managers gain information on the occurrence of cyanobacteria in surface waters. You will collect water samples using a filtering net tow; prepare slides to observe under the microscope that is included in the cyanoScope kit; learn how to identify cyanobacteria; and submit photos to the iNaturalist community for discussion, and identification confirmation.
cyanoMonitoring – this program goes beyond cyanobacteria bloom events to monitor cyanobacteria populations over time. A long-term systematic approach to understanding how cyanobacteria respond to environmental conditions is the best way to learn how and why problems may occur. You will collect water samples, then use a fluorometer (provided by the program) to measure cyanobacteria pigments and submit your data to the cyanoMonitoring database.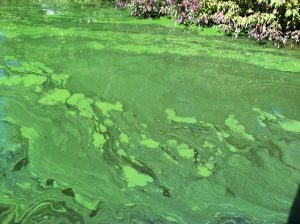 The above monitoring projects (bloomWatch, cyanoScope, and cyanoMonitoring) were developed by the Cyanobacteria Monitoring Collaborative. Lake Stewards of Maine is one of many partners in this initiative.
Please CLICK HERE TO LEARN MORE about the Cyanobacteria Monitoring Collaborative.