To view the complete listing of recent LSM Donors and Sponsors, please click here.
---
Volunteers – Please Consider Requesting Support for LSM from Your Lake Community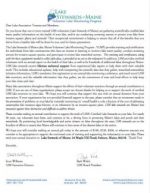 Ask your lake association to make an annual donation to LSM.  To help you make the request, we've drafted a letter that you can present to your association.  If there's anything that we can do to help with this, please feel free to contact us.
Annual Giving
Although volunteers are not charged a fee for training and technical support, and most LSM publications are available to the public at no cost, financial contributions to the program, by individual supporters like you, are critical to meeting our mission of monitoring and protecting Maine's lakes. LSM has a reputation for stretching its financial resources to maximize the program benefits to as many individuals and lakes as possible. Your tax-deductible contribution to the LSM is used in the following ways:
To purchase monitoring equipment for all volunteers
To increase the number of water quality and invasive aquatic plant training workshops throughout Maine
To provide all volunteer monitors with critically important technical support
To provide outreach support to lake associations, watershed communities and municipal officials throughout Maine
To plan and implement "lake-friendly" water quality conservation practices on the grounds of the LSM Center for Citizen Lake Science
To develop and launch new programs in response to emerging needs
Please consider making an annual donation to LSM. You may designate the way in which you would like your contribution to be used. Your generosity will directly benefit Maine's clean, clear lakes and ponds.
Memorials
You can honor the lake-lover in your life by giving a gift to sustain the protection and stewardship of Maine's lakes. Your tax-deductible contribution in honor or in memory of your loved ones helps us sustain our work to protect Maine's lakes into the future.
IRA Contributions
If you are 70-1/2 years or older and have an IRA, you can direct some of your RMD (required minimum distribution) as a charitable rollover to LSM, and it is tax-free!  Contact your IRA administrator for details on an IRA Charitable Rollover.
Planned Giving and Bequests
Many people believe that the most important legacy they can leave to future generations is one of healthy, vital natural resources and a protected Maine environment. By naming Lake Stewards of Maine in your will, you can be assured that the work of caring for Maine's lakes will continue past your lifetime. A bequest in your will is a direct and significant way to make a planned gift to LSM. The type of bequest depends on the individual's circumstances and can be made in a variety of ways. If you are interested in including LSM in your estate planning, please consult with your attorney.
For more information on LSM giving opportunities, please contact us at:
stewards@lakestewardsme.org or (207) 783-7733