As of January 2019, thirty-one lakes and ponds, and fourteen stream and river segments are known to be infested with invasive aquatic plants. Variable water-milfoil is still the most widespread of the known invasive aquatic plants in Maine.  Other invasive aquatic plants present in Maine include curly-leaf pondweed, Eurasian water-milfoil, European naiad, European frogbit and hydrilla.
Invasive Aquatic Plants Known to be in Maine

Variable water-milfoil infestation in the Songo River at Sebago Lake State Park

Eurasian water-milfoil infestation in a Scarborough quarry pond
photo by: Don Cameron

Curly-leaf pondweed has infested West Pond in Parsonsfield
photo by: Ann Bove

European Frogbit
Photo by: University of Florida
European naiad was first found in Legion Pond in Kittery.  (In 2010 curly leaf pondweed was also found, making this Maine's first known "double infestation.")

Hydrilla infestation in Pickerel Pond in Limerick
---
Infested Waterbodies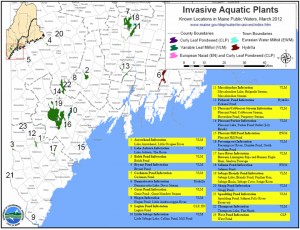 For those of us concerned about the spread of aquatic invaders in Maine, 2011 brought both good and bad news. It also brought a new system for listing infestations.
Please click on map for current live version.
---
Control Methods Used in Maine
Once an infestation has been confirmed, rapid response is crucial. The prospects for effective management or even eradication, is greatly increased by swift, well-planned, and properly executed controls. There are a number of control methods being utilized on infestations in Maine, often in conjunction. Control needs may change over the course of treating an infestation, and some infestations respond more positively to some techniques or combinations of techniques.

Benthic Barriers
Hand Removal
DASH (Diver Assisted Suction Harvesting)
Chemical Control
---
Maine Citizens Guide to Invasive Aquatic Plant Management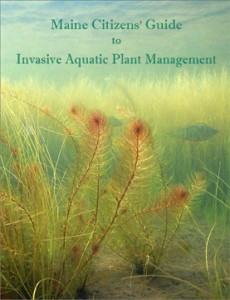 The purpose of the Maine Citizens' Guide to Invasive Aquatic Plant Management is to provide the information necessary to effectively manage invasive aquatic plant (IAP) populations; to prepare for such an eventuality; and to address all associated activities. Methods described in this Guide are based upon tested best management practices for controlling aquatic plants effectively and in a manner that protects wildlife and habitat.
---
Diving for Milfoil
Water-quality officials in Maine are on constant watch for non-native plants, especially variable leaf milfoil. "That's a non-native nuisance perfectly suited for life in Maine's ponds," said Water Quality Manager Mary Jane Dillingham of the Auburn Water District. Nothing natural in Maine can keep it in check, which means it spreads and spreads. In the Basin, divers are removing milfoil by hand — basically, weeding underwater.
Please click here for complete article & video.