Invasive Plant Patrollers start out at the Lake Stewards of Maine's Introductory Invasive Plant Patrol training workshops. Below are protocols and procedures used by Invasive Plant Patrol monitors.
Invasive Plant Patrol Monitor Certification

The IPP Certification Program helps our volunteers stay current regarding protocols and best practices, and maintains a high level of quality assurance for the data gathered.  To get started, click the link and scroll down to Invasive Plant Patrol 101 ~ Online Certification Course.
Instructions for Invasive Plant Patrol Surveys
IAP Screening Survey Procedures
Survey Map Protocols
Maps are an essential part of an effective invasive aquatic plant survey, and proper mapping procedures can provide a wealth of information about survey results. Click here for mapping resources.
Lake Pages
Looking for your QA Certification # or Lake MIDAS#?
How about your lake report or depth maps? Check out your individual Lake Page.
You'll find information about your lake, including water quality data, maps, volunteer lists, past plant surveys and a link to local weather.
Notice: Do Not Print Field Sheets on Inkjet Printers. There is a good chance your forms will get wet and inkjet printing runs when wet. Please use a laser printer or contact the LSM office and we will gladly mail you extra data forms.
Plant Identification Pages – used by Courtesy Boat Inspectors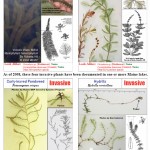 Click here for these helpful pages on plant identification; they show the "11 most unwanted" invasives, and common look-alikes
---
Additional Resources
Water Quality and Invasive Plant Patrol Workshop Schedule
Identify plants using our online tool the Field Guide
Volunteers –
Please consider making this appeal letter available to your lake association. A contribution from your association helps the LSM to continue to provide you with training, technical support and equipment.
IPPer recorded session: What's That Plant and IPPer Zoom Room  –  These are special sessions recorded and published here due to valuable content.